Noah Mullens of Milton was one of two golfers to earn alternate status in US Amateur qualifying from Thursday's event at Edgewood Country Club in Sissonville, W. Va.  Over 70 golfers competed for two spots to advance in US Amateur qualifying, as well as two alternate positions.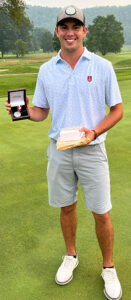 Top honors went to Benjamin Smith of Blain, Pa., who scored an eight under par 134 for the 36-hole qualifier.  The other player advancing is Harry Reynolds of Greenville, SC, finishing one stroke behind Smith with a seven under par 135.
Joining Mullens in the two alternate positions is Samuel Walker of Advance, NC.  Both golfers finished the day at six under par 136.
The West Virginia Golf Association (WVGA), in support and collaboration with the United States Golf Association (USGA), conducted the US Amateur qualifier.
"It's always a pleasure to host an event of this caliber featuring some of the best golfers from across the country and beyond," Edgewood's Head Golf Professional Craig Berner.  Thanks go to Kenny Eggleston and his staff for have the course in such a great condition."
"We are honored to play host to one of the 95 US Amateur qualifiers across the country," said WVGA Interim Executive Director Chris Slack.  "I'm always amazed to see where our participants call home.  In our field of 71 players, in addition to our West Virginia golfers, we have players from 16 other states.  There are players who call Brazil, Colombia, Indonesia, Scotland, South Africa and Wales home.  We're glad for the chance to let them experience at least a part of West Virginia."
Toby Bishop of Wales, who just finished his freshman year at University of Florida, said he came here this week to get a spot in the US Amateur.  "Originally, I was down to play at my home course in Gainesville.  I had a tournament come up that I had to play as well, so I was looking around at other venues and I've not been to West Virginia," Bishop said.  "I heard good things about it, so I made the trip out here this week.  The golf looks terrific, so I'm looking forward to this week."
John Stillman of Burr Ridge, Il., is a fifth-year member of the Bradley University golf team and said he came to this qualifier because other locations filled quickly and he liked the looks of the Edgewood Course.  "I've never been to West Virginia before in my life.  This is my first time," he said.  "So it's something new, something adventurous and I wanted to try to qualify for the US Amateur."
Victor Dos Santos, a student at Texas Christian University who calls Curitiba, Brazil, home, said he had several reasons for choosing the Edgewood qualifier.  "The course suited my game since it's not the longest course in the world.  You have better weather than Texas right now and I just wanted to do a road trip with my parents," he said.
Nicolaas Botha, a native of George, South Africa, is a graduate student at University of Toledo.  He and his younger brother are both members of the university's golf team.  "I just came from the Ohio Open, so I just decided to drive an extra three hours to get here and just give myself a chance to qualify for the UA Amateur," he explained.
Click here for today's leaderboard.
For more information, please visit wvga.org.