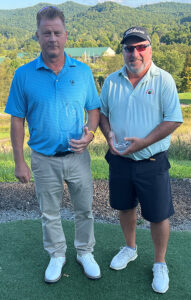 The final day of the West Virginia Golf Association's (WVGA) Senior Four-Ball Championship at Stonewall Resort required a two-team playoff to determine the champions.
Jim Grimmett of Davin and Pat Carter of Huntington had to face Jay Davis of St. Clairsville, Ohio and Bryan Myers of Wheeling to win by one stroke on the playoff hole to take the 2023 WV Senior Four-Ball Championship.  Both teams finished regular play at eight under par 136.
The team of Richard Carder of Fort Ashby and Jim Carpenter of Martinsburg extended their first day's lead to finish at five under par 139, two strokes ahead of Bob Clark and Penn Kurtz of Wheeling in the Senior Division.
"We enjoyed two great days of golf here at Stonewall and want to congratulate all our players and our Senior and Championship Division winners," said WVGA Interim Executive Director Chris Slack.
"The course was able to stand on its own and provide a good test for the Senior 4-Ball players," said Head Golf Professional Mike Rogers.
Click here for today's leaderboard.
For more information please visit wvga.org.