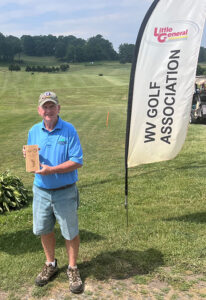 John Drake of Cottageville took the Little General Stores Low Round of the Day at Thursday's Senior Series event, hosted by the West Virginia Golf Association (WVGA) and sponsored by Little General Stores, at Mingo Bottom Golf Club in Elizabeth with a two under par 70.
The West Virginia Senior Series, which is presented by Little General Stores and conducted by the WVGA, is for players ages 50 and up.  Thanks go to Chuck Workman of Appalachian Sport and Donnie Smith of Emergency Physicians Resource Organization for sponsoring our Diamond Division.  Overall, nearly 60 players enjoyed the WVGA's Senior Series event.  Categories are: Senior, 50-59; Silver, 60-69; Gold, 70-79; and Diamond, 80+.
"It's a privilege for us to host the WVGA Senior Series at Mingo Bottom Golf Club. We were picked a few years ago to be a tour stop for the Senior Series and are glad we have been rebooked each year since. It's been a pleasure working with Chris and the rest of the WVGA staff. The players have always been great and very easy to get along with. They treat everyone here with respect and we really appreciate that," said Billy Dotson, Mingo Bottom's General Manager and Director of Golf.  "It's a great thing for Mingo Bottom. We get exposure to a lot of golfers who would probably not have come here if not for this tournament. In turn, we hope they will appreciate the course and enjoy it enough to return. Our course is owned by three ladies and they and my wife come to help serve the dinner after the tournament and make homemade desserts for all the players. We feed them all they can eat hot dogs all day long while they're playing and have the meal afterwards. I always tell them if you leave hungry it's your fault."
In addition to Drake winning the Gold Gross and Net categories, other winners today were:
Senior Gross: John Ridenour of Long Bottom, Ohio;
Senior Net: Michael Joy of Parkersburg;
Silver Gross: John Duty of Hurricane;
Silver Net: Dennis Willard of Monongah; and
Diamond Gross and Net: Gary Roush of Mason.
Other highlights of the day saw.
"The players had beautiful weather and a great day at Mingo Bottom Golf Club," said WVGA Interim Executive Director Chris Slack.
Click here for today's full results.
The Senior Series is back in action Tuesday, June 13, at Nicholas Memorial Golf Club in Summersville.
For more information please visit wvga.org.