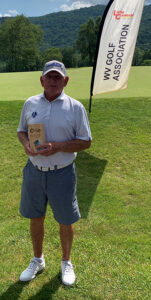 Jim Carpenter of Martinsburg took the Little General Stores Low Round of the Day at Wednesday's Senior Series event, hosted by the West Virginia Golf Association (WVGA) and sponsored by Little General Stores, at The Raven at Snowshoe Resort with a one under par 71.
The West Virginia Senior Series, which is presented by Little General Stores and conducted by the WVGA, is for players ages 50 and up.  Thanks go to Chuck Workman of Appalachian Sport and Donnie Smith of Emergency Physicians Resource Organization for sponsoring our Diamond Division.  Overall, 78 players enjoyed today's WVGA's Senior Series event.  Categories are: Senior, 50-59; Silver, 60-69; Gold, 70-79; and Diamond, 80+.
In addition to Carpenter winning the Gold Gross category, other winners today were:
Senior Gross and Net: Greg Jones of Ona;
Silver Gross and Net: Doug Williams of Scott Depot;
Gold Net: David Snyder of South Charleston; and
Diamond Gross and Net: Vernon Simpson of Fairview.
Highlights of the day saw six birdies for Carpenter and five birdies for Williams.
"The players had a great day in the mountains," said WVGA Tournament Manager Rick Johnson.
Click here for today's full results.
The Senior Series is back in action Thursday, July 13, at Canaan Valley Golf Club.
For more information please visit wvga.org.