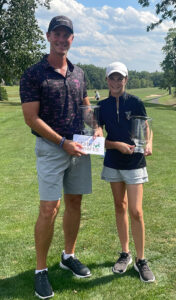 The 2023 West Virginia Mixed Championship, hosted by the West Virginia Golf Association (WVGA), finished Sunday at Cacapon State Park in Berkeley Springs.
The father-daughter team of Jared and Kiara Shank of Charles Town took the Championship honors with a 10 under par 134, with the help of 14 birdies over two days.  Matthew Moore and Cimmie Shahan of Morgantown were runners-up at nine under par 135, thanks to nine birdies and an eagle.
The First Flight was won by the team of Linda and John Stroud of Daniels with a two under par 142, thanks to six birdies.  The Second Flight was won by the team of John and Jennifer Bledsoe of Barboursville with a six over par 150, including four birdies and an eagle.
"It's great that we got to host a WVGA event for the first time in a while.  Players got to see our terrific course and our beautiful lodge," said Cacapon's Head Golf Professional Monty Goff.
Today's format featured shamble rules applied to the front nine.  Players select the best tee shot of the two and play their own ball from that point until the ball is holed. The ball may be placed within one club-length, but no closer to the hole, and must stay in the same cut of turf.  The lowest score of the two is the team score for the hole.  Scramble on the back nine, where both golfers hit each shot, then select the best shot until the ball is holed.
Click here to see today's leaderboard.
For more information please visit wvga.org.