Extending his lead by two strokes today, 19-year-old Cameron Jarvis of Barboursville scored two under par today to take the overall lead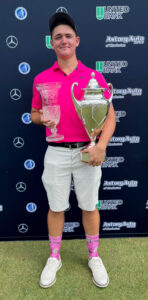 at three under par 277 to win the 104th West Virginia Amateur Championship at The Greenbrier.  The Championship, presented by Astorg Motor Company and Mercedes-Benz of Charleston, sponsored by United Bank and conducted by the West Virginia Golf Association (WVGA), saw the final round of play back on the Old White Course.
The only other 19-year-old to win the WV Amateur Championship was Mason Williams in 2019.
Davey Jude of Kermit remained in second place with a two over par 282, while Ryan Bilby of Follansbee rose to third with a three over par 283 for the tournament.
"My play didn't change all week.  It's slow back, fast forward and keep it level in the head.  I came out here knowing every shot was important.  It was good to come out and play this well at this place," said Jarvis. "I had no idea what the score was.  I didn't know anything.  When that last putt fell, I didn't know if I won until people started celebrating, so that was really cool."
"The Old White Course is a good test of patience and skill.  This is a long event, and most people don't play 72-hole events during the summer.  It becomes a mental grind," said The Greenbrier's Head Golf Professional Hill Herrick.  "We certainly congratulate our young champion, Cameron Jarvis, on the win."
"This has been another great year for golf in West Virginia.  The WVGA staff did a great job of making this special for the players.  Without the golfers, we wouldn't be here and we're happy to be part of it," said Astorg Auto General Manager Tyler Astorg.  "Mercedes-Benz is proud to be a continuing sponsor, along with Astorg Auto, and the support from United Bank has further elevated this event.  We're pleased to see so many young golfers like Cameron Jarvis.  It's speaks well to the future of the game."
"This is a wonderful venue and they even arranged for the weather to improve each day," said WVGA Interim Executive Director Chris Slack. "We are very grateful for our partners in Astorg Auto, Mercedes-Benz and United Bank who have helped us elevate this championship tremendously over the last eight years. This championship could not be done without the great support of The Greenbrier Resort."
TOP TEN FINISHERS (with ties):
1 – Cameron Jarvis of Barboursville, (-3) 277;
2 – Davey Jude of Kermit, (+2) 282;
3 – Ryan Bilby of Follansbee, (+3) 283;
4 – Christian Brand of Scott Depot, (+4) 284;
5 – Cory Hoshor of Scott Depot, (+5) 285;
6 – Jack Michael of Huntington, (+7) 287;
7 – Tommy Evans of Charles Town, who scored five birdies today, (+8) 288;
7 – Christian Boyd of Charles Town, (+8) 288;
9 – Cam Roam of Huntington, (+9) 289;
10 – Woody Woodward of Bridgeport, (+10) 290;
10 – Mason Kidwell of Charles Town, (+10) 290; and
10 – Sam O'Dell of Hurricane, (+10) 290.