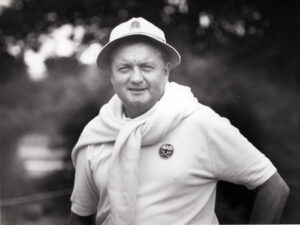 Born and raised in Mount Hope, W.Va., Edgar M. Tutwiler, Jr. was one of the most accomplished West Virginia golfers to ever swing a club. A businessman first and golfer second, Tutwiler co-owned several businesses around the Charleston area in the 1950s and early 1960s, although he was best known for his association with the Cadillac brand.
From the time he was 19 years old in 1939, through the age of 43 in 1963, Tutwiler won 11 West Virginia Amateur Championships. He also captured three West Virginia Open titles in 1951, 1956 and 1962. In 1958, he was the recipient of the Hardman Award for West Virginia Amateur Athlete of the Year. In addition to his success in West Virginia, Tutwiler competed on the U.S. Walker Cup team in 1965 and 1967, as well as the World Cup team in 1964. He played in the Masters in 1965 and 1966, and competed for the U.S. Amateur title in 1964, where he finished runner-up to fellow West Virginia Golf Hall of Famer, William C. Campbell.
After moving to Indianapolis in 1964, Tutwiler continued to win golf championships, capturing the Indiana State Amateur title in 1966 and 1967. In 1983, Tutwiler co-founded the Society of Seniors, an organization of amateur golfers, 55 years of age and older, with handicaps of three or less. Several Society events are held each year, including the Ed Tutwiler Memorial Four-Ball Championship, which is held in Scottsdale, Ariz. In 1973, Tutwiler was inducted into the Indiana Golf Hall of Fame.