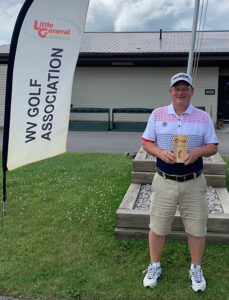 Dean Daniels of McHenry, Md., shot the Little General Stores Low Round of the Day at Thursday's Senior Series event, hosted by the West Virginia Golf Association (WVGA) and sponsored by Little General Stores, at Canaan Valley Resort in Davis with a one under par 71.
"We always enjoy having the Senior Series golfers here, seeing friends and familiar faces," said Canaan's Golf Director Sherry Harold.  "Our guys have been working on the course and it's in great shape."
The West Virginia Senior Series, which is presented by Little General Stores and conducted by the WVGA, is for players ages 50 and up.  Thanks go to Chuck Workman of Appalachian Sport and Donnie Smith of Emergency Physicians Resource Organization for sponsoring our Diamond Division.  Overall, 96 players enjoyed the WVGA's Senior Series event.  Categories are: Senior, 50-59; Silver, 60-69; Gold, 70-79; and Diamond, 80+.
In addition to Perry winning the Silver Gross category, other winners today were:
Senior Gross and Net: Mike Boggs of Hedgesville;
Silver Gross: Dean Daniels of McHenry, Md.;
Silver Net: George Abel of Grafton;
Gold Gross: Jim Carpenter of Martinsburg;
Gold Net: Dickey Foster of Nitro; and
Diamond Gross and Net: Vernon Simpson of Fairview.
Click here for today's full results.
The Senior Series is back in action Tuesday, July 18, at Grandview Country Club in Beaver.
For more information please visit wvga.org.