The West Virginia Golf Association (WVGA) West Virginia Amateur Series, presented by PSIMED, saw Jared Taylor of Bluefield take the Championship Division at Fincastle Country Club in Bluefield, Va., with a one under par 69 on the strength of six birdies.
Bill Capelety of Farmington captured the Men's Gross Division with a five over par 75.  Nick Martin of Mineral Wells took the Men's Net Division with a one under par 69.
Karen Rainey of Daniels claimed the Women's Gross Division with a 14 over par 84, while Janie Webber also of Daniels took the Women's Net Division with an eight over par 78.
Other highlights on the day included four birdies for Christian Brand of Scott Depot and three birdies for Ben Palmer of Parkersburg.
"Our players did well today and had some great course conditions," said WVGA Interim Executive Director Chris Slack. "Thanks to PSIMED for their support and Fincastle Country Club for their hospitality."
The West Virginia Amateur Series, presented by PSIMED, is open to anyone, male or female, of any skill level. Awards are given in several flights based on gross and net scores.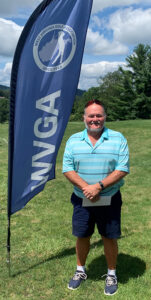 Click here for today's leaderboard:  WV Amateur Series @ Fincastle Country Club.
The WV Amateur Series is back in action Wednesday, August 9, at the Resort at Glade Springs in Daniels.
For more information, please visit wvga.org.